Ford Military Appreciation Program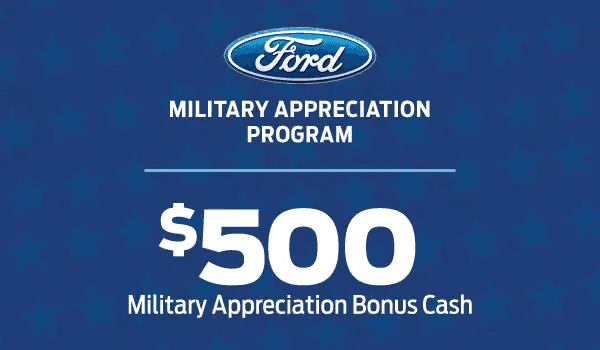 At Sheehy Ford of Ashland we greatly value and appreciate members of our military Without their sacrifices, many of our freedoms wouldn't exist. As a way to say thank you and honor the brave men and women serving our country, we're offering up to $500 off the purchase or lease of a new Ford!
Who's Eligible?
You're eligible to get up to $500 off a new Ford if you are an,
Active duty member of the Army, Navy, Air Force, Marines, Coast Guard, National Guard, Reservists serving on Active Duty and members of the Delayed Entry/Enlistment Program (DEP)
Veteran separated within the last 24 months
Retired member of the military
Veteran
Spouse of an active duty member of the military, veteran or retired member of the military
At Sheehy Ford of Ashland, we understand the tremendous sacrifices the wives and families of members of the military make, which is why this amazing offer is TRANSFERABLE within your household! This means if you live in the same household as a member of the military then you are also eligible for up to $500 off the purchase or lease of a new Ford!
How Do I Redeem This Offer?
At Sheehy Ford of Ashland we make it easy to get your military discount! Simply follow the steps below to register your offer.
Registering Your Offer:
Click here
Enter your zip code and choose the military option
Click on the Register for Your Offer button
Provide all your military ID.me information
Bring your confirmation email to Sheehy Ford of Ashland
Drive home in your new Ford!
At Sheehy Ford of Ashland, we pride ourselves on our new and used military appreciation programs. Our dedicated and knowledgeable sales and finance teams can't wait to help you get the car of your dreams! So don't waste another second call, us at (844) 730-0810, fill out the contact form below or stop by our store located 11450 Washington Highway, Ashland VA .